When you make a choice simple or a message simple for your employees, you remove decision angst. We get them to take off their analytical hats. We create empathy for specific individuals. Spotting them is often easier and more useful. This book is going to show you exactly how to start your own blog and turn it into a full-time cash-generating machine.
Data Protection Choices
I'm going to give you the keys to the kingdom, which will unlock this entirely new career that you never thought possible. Salvador Briggman. Book review.
Video Review for Made To Stick by Chip and Dan Heath (Part 1)
Simplicity Simplicity is all about creating the simplest form of your ideas as possible, like Inception. Surprise gets attention. Interest keeps attention.
Made to Stick: Why Some Ideas Survive and Others Die - Chip Heath, Dan Heath - Google книги
Surprise is when our schema fails. It makes us want to find an answer and resolve the question of why we were surprised. To get people interested in a topic, you point out a gab in their knowledge. If someone has an abyss more than a gap, you need to fill in enough knowledge to make the abyss into a gap.
From Great Ideas to Sticky Ideas
Abstract is for the expert. Velcro theory of memory. The more hooks an idea has, the better it will cling to memory. Concreteness is a way of mobilizing and focusing the brain. Credibility We trust the recommendations of those who we like.
If I look at the one, I will. People buy a hanged picture. Three types of plots: challenge, connection, and creativity. With a story, you are involving the audience with an idea and asking them to participate. You may also like. Who is this Sal guy?
Lessons from Made to Stick: Why Some Ideas Survive and Others Die (via Maloney on Marketing)
Why do some ideas stick in our heads and others vanish into thin air? In The Tipping Point , Gladwell used "stickiness" to describe a key characteristic of memorable ideas. In Made to Stick , the brothers Heath endeavor to identify the traits of stickiness and demonstrate how they can be used to generate unforgettable messages.
The authors make it clear why this is important: while everybody agrees that some ideas are memorable and others are not, what is truly disturbing is the fact that the stickiness of a message has little to do with its value. Urban myths, sleazy scams, and conspiracy theories spread like wildfire, while charitable appeals fall on deaf ears and important public service announcements are quickly forgotten. Businesses can't even communicate their purpose to their own workers; in a recent poll of 23, employees, only 37 percent had a clear understanding of their employer's mission.
So what are the characteristics of sticky ideas? The authors employ a somewhat awkward acronym, SUCCESs, to enumerate them: Simple they rely on core ideas ; Unexpected they're capable of sparking interest ; Concrete they're grounded in experience ; Credible they draw on believable sources ; Emotional they appeal to self-interest and -identity ; and Story the best form for conveying them.
Most important, sticky ideas steer clear of what the authors call the Curse of Knowledge — the tendency to forget what it was like not to know an idea. As the authors point out, this can be especially dangerous for charities, where the worthiness of a cause is often taken for granted by those who support it. SUCCESs may seem like a gimmicky collection of bullet points, but what makes this book more than a glib PowerPoint presentation is the authors' skillful use of stories to illustrate their thesis.
Using anecdotes, fables, advertising campaigns, psychological studies, screenplays, and a variety of other sources, the authors present a body of evidence for SUCCESs that is both entertaining and compelling, and in doing so they convincingly demonstrate their core idea that stories are far more effective than abstractions in conveying a message.
In fact, one story alone, the tale of Nora Ephron's first journalism class, is easily worth the price of the book and richly deserves a place, as the authors contend, in the Sticky Hall of Fame. Many of the stories focus on the efforts of nonprofit organizations to solicit public and financial support for their causes. For example, the authors describe how the Nature Conservancy TNC approached the problem of convincing donors to protect a parcel of scrubby, nondescript hills in California.
Unable to "sell" the unattractive landscape as ecologically important with abstract arguments, TNC instead gave it a concrete identity and therefore its own story by designating it "the Mount Hamilton Wilderness. In similar fashion, a nonprofit devoted to preserving duo piano performances was unable to spark enthusiasm with its mission statement "We exist to protect, preserve, and promote the music of duo piano" until it realized that many people equated duo piano with Vegas-style dueling piano acts, not serious chamber music.
The Curse of Knowledge had prevented the fundraisers from telling the story of "duo piano," a message they thought the public was already familiar with. Other examples in the book explore topics as diverse as racial prejudice, weight loss, roadside litter, organ theft, and photocopier repair! Some are hilarious and some poignant, but all underscore the importance of telling stories that are simple, concrete, credible, and emotional like the micro-story encapsulated by "Day Care for Drunks," or the tale recounted in "The Ballad of Gilligan's Island.
University of Illinois, Urbana, IL | [email protected] | 217-689-1461
The authors wisely let the stories speak for themselves, but further details of their origins and sources are included in the book's extensive endnotes. The back matter also includes "Making Ideas Stick: The Easy Reference Guide," which outlines the key points of each chapter, along with a comprehensive index. And to demonstrate how the principles of SUCCESs can be applied to as-yet undeveloped ideas, the authors present a series of "Idea Clinics," practical exercises demonstrating how the same idea can be expressed in sticky and non-sticky ways, with each idea evaluated on a SUCCESs scorecard.
Made to Stick: Why Some Ideas Survive and Others Die
Made to Stick: Why Some Ideas Survive and Others Die
Made to Stick: Why Some Ideas Survive and Others Die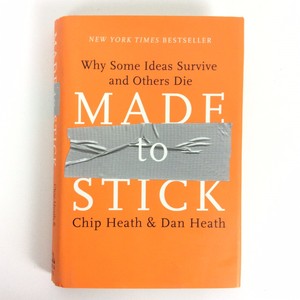 Made to Stick: Why Some Ideas Survive and Others Die
Made to Stick: Why Some Ideas Survive and Others Die
Made to Stick: Why Some Ideas Survive and Others Die
Made to Stick: Why Some Ideas Survive and Others Die
Made to Stick: Why Some Ideas Survive and Others Die
Made to Stick: Why Some Ideas Survive and Others Die
---
Copyright 2019 - All Right Reserved
---